What is the first computer BUG?
Posted by : Cebu Blogger
Tuesday, June 12, 2007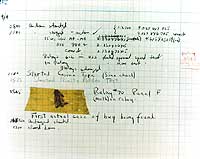 The first computer "bug" was a real bug.

In 1945, engineers found a moth in Panel F, Relay #70 of the Harvard University Mark II Aiken Relay Calculator (a primitive computer).

The computer was running a test of its multiplier and adder when the engineers noticed something was wrong.

The moth was trapped, removed and taped into the computer's logbook with the words: "first actual case of a bug being found." (see picture above)

Then there it begins, the operators said that they had "debugged" the machine.. thats the story of "debugging a computer" born...